Largo Resources Retires $59 Million of 9.25% Senior Notes Due 2021
Edward Kim Follow |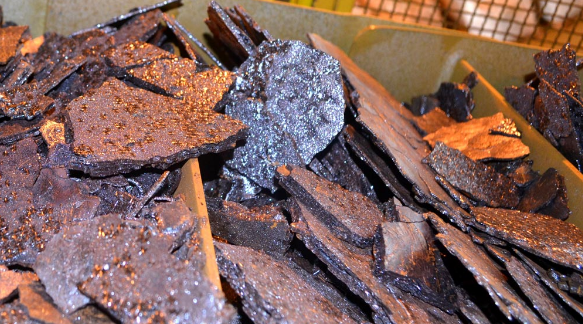 ~ Largo Resources, the only pure play vanadium company, is reducing debt on the back of a record year of production from its Brazilian vanadium mine ~

Vanadium—symbol V with atomic number 23 on the periodic table—while generally not among the most followed metals, has been squarely in the eye of commodities traders over the past year. The price of commercially desirable vanadium pentoxide (V2O5) more than tripled from about $10 to $34 per pound last year before getting carved in half into year-end. Based on the structural supply side deficit that is expected to persist in the near term, we think the current $17 per pound range may be solid support for the metal.
90% of the world's vanadium is used in the production of high-strength low-alloy steel. The addition of just 1 kg of vanadium to a 1,000 kg (1 metric ton or tonne) of steel doubles the yield strength of the steel, creating the most efficient alloy for the manufacture of reinforcing bar (rebar) used for buildings, tunnels and bridges. Vanadium alloys are durable in extreme temperatures, corrosion resistant and abrasion resistant. Its high strength-to-weight ratio makes vanadium a vital component for the aviation and automotive industries as it increases fuel efficiency and durability. Further, advances in battery technology have made the vanadium redox flow battery (VRFB) technology a viable competitor to lithium in the field of energy storage.

China, as the world's largest producer of steel, is consequently the main driver of vanadium prices. Much of 2018's rise in vanadium prices is attributed to more stringent standards set by China for its rebar in order to improve seismic resistance in new constructions. The country's supply has also been impacted by the closing of numerous iron ore mines and increased environmental regulations that have stopped the issuance of stone coal operational permits.

Source: Largo Resources presentation, Dec 2018

Largo Resources
Largo Resources LGO:CA LGORF is the only publicly traded pure-play vanadium company. Largo, with corporate headquarters in Toronto, owns (99.84%) and operates the Maracás Menchen vanadium mine located in Bahia, Brazil. The company announced today that it has completed the repurchase and retirement of US$59.2 million in aggregate principal amount plus premium and accrued and unpaid interest of its 9.25% Senior Secured Notes due 2021. The Notes were repurchased at 105.625%, and Largo has now reduced its total outstanding principal by about 78% since May 2018.
Largo's outstanding debt balance is now approximately US$33.6 million and the Company remains in a net cash position beginning 2019 on a positive note. Following a record year of production for the Company, Largo looks forward to a great year ahead as it intends to retire the remainder of its outstanding debt on or before Q2 2019.

- Mark Smith, CEO, Largo Resources.





Source: Bloomberg News Network, via Vorticom

Record production
The company set a new quarterly production record of 2,595 tonnes of V2O5 in Q4 2018 and record full year production of 9,830 tonnes. This represents an increase of 6% over 2017 and the strongest full year of production from the mine since operations began in 2014. The Maracás Menchen mine combines one of the lowest cost mining operations in the world for vanadium with one of the highest known primary grade vanadium deposits.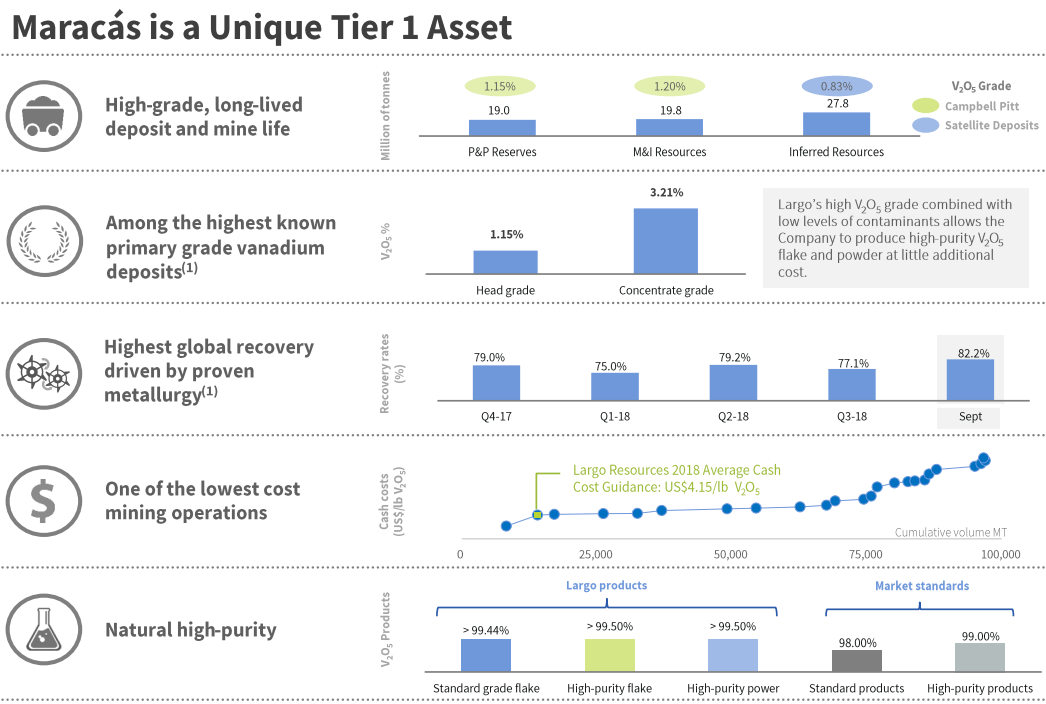 Source: Largo Resources presentation, Dec 2018

Investment issues to consider
Largo was ranked number one on the 2019 OTCQX Best 50 announced last week, an annual ranking of the top 50 US and international companies traded on the OTCQX market. The ranking is based on an equal weighting of one-year total return and average daily dollar volume growth. Largo led all companies on that market with a one-year total return of 93% and an 8,449% increase in average daily dollar volume.
The company has a take-or-pay off-take agreement with Glencore International, one of the world's largest globally diversified natural resource companies, for 100% of its vanadium material. The current agreement, which expires in Q2 2020, is a 6-year renewal that was signed in 2014, after the original 6-year agreement was signed in 2008.

The company's common stock trades on the Toronto Stock Exchange (average volume of 1.65 million shares) and on the OTCQX (average volume of 670,000 shares). The current CAD 1.45 billion (USD 1.10 billion) market cap feels modest given the production trends at the Maracás Menchen mine, the supply constraints on vanadium and Largo's unique pure play status. The stock may be the cleanest way to play vanadium, the demand for which is expected to continue to increase.
During the year ahead, Largo will continue its focus on profitability and looks forward to reaping the benefits of the increased production rate as a result of the Company's ongoing expansion project. The expansion project to increase nameplate production capacity to approximately 1,000 tonnes of V2O5 per month is progressing on time and the Company expects to reach the new nameplate capacity rate in Q3 2019.

- Mark Smith, CEO, Largo Resources.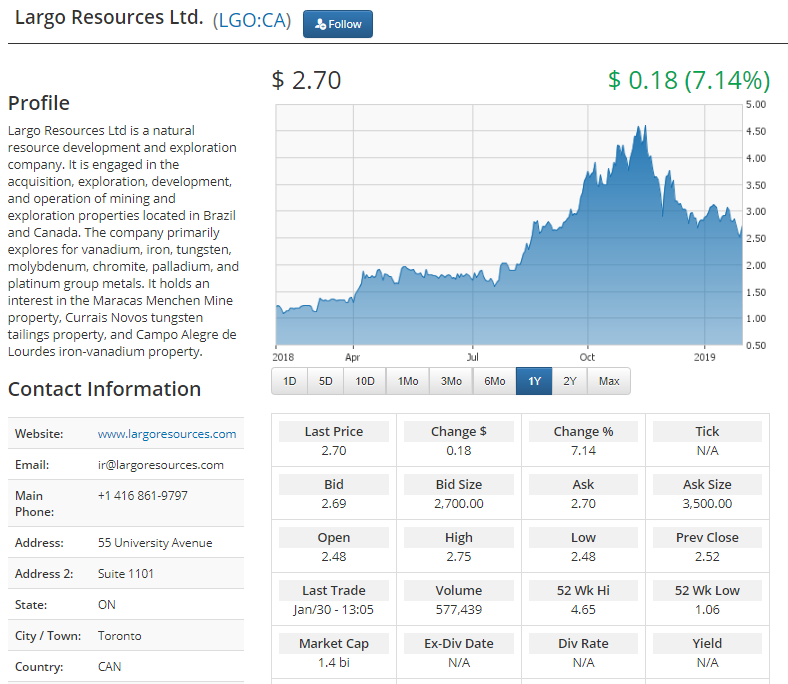 Please email us at content@equities.com to see our Case Studies and Testimonials.
Please click here for information on our trading platform.

Please click here to see our daily newsletter.
Stock price data is provided by IEX Cloud on a 15-minute delayed basis. Chart price data is provided by TradingView on a 15-minute delayed basis.
DISCLOSURE: The author holds no positions or any other beneficial interest in, and has not received any compensation from, the companies mentioned in this article.

---
The views and opinions expressed in this article are those of the authors, and do not necessarily represent the views of equities.com. Readers should not consider statements made by the author as formal recommendations and should consult their financial advisor before making any investment decisions. To read our full disclosure, please go to: http://www.equities.com/disclaimer.
Trending Articles
Market Movers
Sponsored Financial Content