Giyani Metals: High Grade Manganese Opportunity for Lithium Ion Batteries
Edward Kim Follow |

Manganese is a vital element in the production of steel, accounting for 85% to 90% of total domestic demand, according to the US Geological Survey (USGS). The USGS has labeled manganese as a "critical mineral" as the US "has been totally reliant on imports of manganese for many decades and will continue to be so for at least the near future." While steelmaking provides a baseline for ongoing manganese demand, future growth in the industry is expected to be driven by the increasing demand for high grade manganese to be used in lithium-ion batteries to power electric vehicles, smartphones, tablets, cameras and power tools.

The global lithium ion battery market is projected to grow from $30 billion in 2017 to over $100 billion in 2025, according to Allied Market Research. In its May 2018 report, "EV Outlook 2018," Bloomberg New Energy Finance projects electric vehicles to grow from 1.1 million worldwide in 2017, to 11 million in 2025, surging further to 30 million in 2030 as they become cheaper to make than cars powered by internal combustion engines. "By 2040, 55% of all new car sales and 33% of the global fleet will be electric." One of the key hurdles to growth that Bloomberg sees, however, is a risk of cobalt shortages in the early 2020s that would directly affect battery pricing. This is where manganese moves to center stage.

Cobalt is already the most expensive material used in a battery, and manufacturers are increasingly seeking to move to lower cost materials. Simultaneously, there is growing pressure on companies to distance themselves from what Wired called "the blood diamond of batteries" in a June 2018 story about the dark history of human rights violations in the Democratic Republic Congo, where 60% of the world's cobalt is found. Cobalt, nickel, aluminum and manganese are the components of preferred battery compositions, according to Moore Stephens, a global accounting firm with significant experience in the battery minerals space. Of these, manganese is by far the cheapest mineral to mine and produce, and Moore Stephens states in a July 2018 report that "it is highly likely that manganese based batteries will take a leading role in the unfolding story, with cost and supply being the two key drivers of this outcome."

High grade, or high purity, manganese, is used as the primary cathode material in Nickel Manganese Cobalt (NMC) and Lithium Ion Manganese Oxide (LMO) batteries, which are used in the BMW i3 and Chevy Volt, among others. Additionally, Tesla has been cited to be moving away from its traditional Nickel Cobalt Aluminum (NCA) batteries to explore greater usage of NMC batteries, which it is already using in storage devices. Although currently making up only 10% of the global manganese market by volume, high grade manganese makes up about 40% of the global market value, according to Moore Stephens.
Giyani Metals

We've been following the progress of Ontario-based Giyani Metals WDG:CA, which is developing high grade manganese mining projects in southeastern Botswana. Giyani Metals' Kanye Manganese Project encompasses three prospects—K.Hill, Otse and Lobatse—that contain shallow open pit mineable deposits of high grade manganese. In September 2018, the company announced that a mineral resource estimate on the K.Hill project demonstrated an inferred resource of 1.1 million metric tons grading 31.2% manganese oxide (MnO) at a cut-off grade of 18% MnO. Giyani filed a National Instrument 43-101 technical report to this effect in November 2018 and said that it will commence a preliminary economic assessment for the prospect.
Giyani began exploration on its 8,135 km2 property in May, 2017 with a mapping and sampling program which identified the K.Hill area as a priority prospect. Since then, the Company has undertaken mineralogical and hydrometallurgical testing and carried out an exploration and resource drilling campaign in which 1,832 m was drilled, 1,109 m of which was focused on K. Hill. Giyani achieved 368 core samples assayed together with 57 quality control samples.
We are encouraged by the results of mineral resource estimate. The initial size of this inferred resource allows us to proceed with a preliminary economic assessment (PEA) to establish the base economics of this project. More importantly, the nature of the manganese mineralization at K.Hill appears to be amenable to the hydrometallurgical process that could produce electrolytic manganese metal (EMM). This bodes well with the Company's strategy to become an independent, vertically integrated, supplier of manganese metal to the battery electric vehicle market.

- Robin Birchall, CEO, Giyani Metals.
Botswana mining advantage

Giyani believes that Botswana, given its relative political stability and transparency, is one of the most attractive mining jurisdictions in southern Africa.

Source: Giyani Metals

Growth strategy

Giyani intends to grow both organically and via acquisition to become the leading supplier of high grade manganese to battery manufacturers. In addition to accelerating the K.Hill project into production, the company plans to develop the Otse and Lobatse prospects in addition to exploring the balance of the Kanye Manganese Project license area. Further, Giyani intends to acquire undervalued manganese projects in southern Africa and ultimately create a large, independent, multinational manganese development company.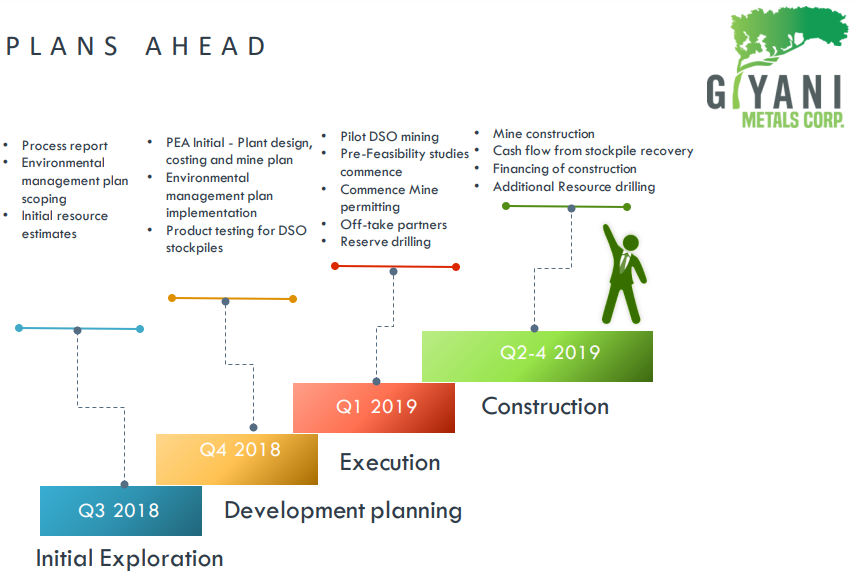 Source: Giyani Metals

Issues to consider
Giyani is still very much a development stage company, with an accumulated deficit of over C$31 million as of September 30, 2018. It trades on the TSX Venture Exchange on reasonable, if erratic, volume ranging from zero to about 281,000 shares over the last three months, averaging about 57,000 shares per day. As of September 30, 2018, the Company had working capital of C$156,199, and "management is continuing to actively pursue strategies to realize on the potential of its assets or secure additional financings in order to fund its operations."
As with many small mining concerns, the risks of development success and capital access appear to be priced into the stock, but we're encouraged by the recent mineral resource estimate and we'll look forward to seeing the preliminary economic estimate. Successfully extracting and processing a finding of this potential size would be impactful for Giyani and its shareholders. As Moore Stephens concludes in its report, "Those that have the required ore to produce high purity manganese products, and are first movers into this growing segment, could see significant upside if [processed high purity manganese] prices increase at the speeds we have seen from other battery minerals over the last two years."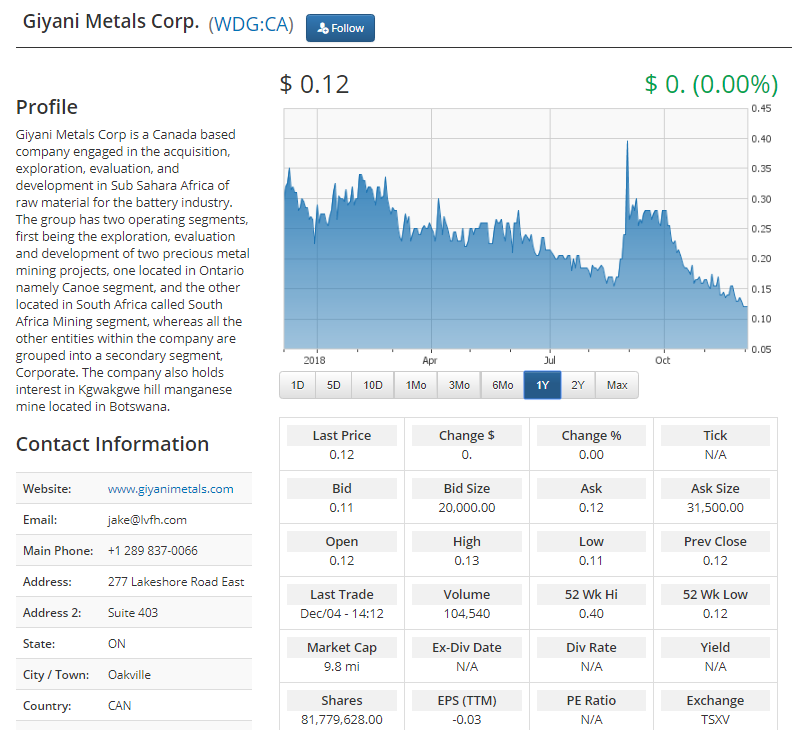 Please email us at content@equities.com to see our Case Studies and Testimonials.
Please click here for information on our new trading platform.
Please click here to receive our free daily newsletter.
Stock price data is provided by IEX Cloud on a 15-minute delayed basis. Chart price data is provided by TradingView on a 15-minute delayed basis.
DISCLOSURE: The author has no positions or any beneficial interest in, and has received no compensation from, the companies mentioned in this article.

---
The views and opinions expressed in this article are those of the authors, and do not necessarily represent the views of equities.com. Readers should not consider statements made by the author as formal recommendations and should consult their financial advisor before making any investment decisions. To read our full disclosure, please go to: http://www.equities.com/disclaimer.
Trending Articles
Market Movers
Sponsored Financial Content